AINA HAINA SCHOOL
COVID-19 Questions & Answers
View all of our information regarding current learning models, Acellus, SPED services, safety measures, daily routines, childcare options, visitors on campus, and parent/community support. Although there are many changes this school year, we try to remember the importance of building resiliency, routine and Learner Agency through opportunities to learn and practice self-awareness, self-management, self-directed learning, and good decision-making.


This information is subject to change.

This page was last updated on March 10, 2021. Updates are in red.
Return to School Transition
| Grade Level | Targeted Group 1 Start Date | Targeted Group 2 Start Date | Distance Only Opt In Declaration Deadline |
| --- | --- | --- | --- |
| Grade K | Mon, November 16 | Tues, November 17 | Mon, November 2 |
| Grade 1 | Tues, December 8 | Mon, December 7 | Mon, November 23 |
| Grade 2 | Mon, January 11 | Tues, January 12 | Mon, December 14 |
| Grade 3 | Tues, January 26 | Mon, January 25 | Fri, January 15 |
| Grade 4 | Mon, February 1 | Tues, February 2 | Fri, January 22 |
| Grade 5 | Tues, February 10 | Mon, February 9 | Fri, January 29 |
What do we do if we travel out-of-state?
Please fill out our
Travel Notification Form
in order for us to verify that the State of Hawaii travel guidelines are being followed when any of our students travel out of state during the current pandemic. Help us keep our campus safe and healthy!

You must sign in with a Google account to submit this form with your travel documentation.

If you do not have a Google account, please email our health aide at
jessie.tacub@k12.hi.us
the following:

Your child's name, grade, room number

Your dates of travel (departure, arrival)

Your travel documentation. Accepted forms of documentation are either a travel itinerary from your airlines or a photo of the airline ticket. Documents MUST include your child's first & last name.

Attach a negative COVID-19 test IF you choose to take a test instead of doing a 10-day quarantine. The State of Hawaii will ONLY accept test results from TRUSTED TESTING AND TRAVEL PARTNERS. Please see the list of partners at https://hawaiicovid19.com/travel-partners/

Read more about the state's COVID-19 travel guidelines here: https://hidot.hawaii.gov/coronavirus/

Safety Measures - Limiting Exposure
What are the ways the school plans to limit exposure?
Social distancing

Wearing masks/face shields

Minimizing movement of classrooms

Maintaining a bubble as much as possible throughout the school day

Eliminating out of bubble gatherings as much as possible

Educating families, kids, and ourselves, if you're sick, stay home

Screening with respectfully asked questions about symptoms and temperature checks by teachers in the morning, if they desire, as contactless thermometers are available for every classroom teacher

Handwashing

Fortunately we have many separate restrooms and some outside restroom handwashing stations.

Washing schedule should be before entering, after sneezing/coughing, before eating, on way out of class, on way back in to class, after restroom use, just before leaving for day and any other transition time during day even within classroom.

In partnership with the PTSA, we have ordered enough 3 paneled attachable plexishields for all student and teacher desks throughout campus.
Where are students and staff socially distanced on campus?
Desks should be at least 6ft apart in the classroom. All meeting areas, classrooms, dining rooms etc. should maintain a 6 foot distance between students and adults whenever possible. When walking about campus, students and adults should be conscious of distancing to the extent possible on walkways, in lines for lunch, going to recess, at recess, returning from recess, waiting for classrooms to open and then exiting classrooms after school. Parents will be socially distanced before school as much as possible by being conscious of other families and then after school by waiting for their child on the grassy area between buildings.
How will surfaces and spaces be cleaned and disinfected?
Every classroom and work space will be cleaned and disinfected at least once daily along with enhanced disinfecting of high touch spots like door handles, light switches, toilet handles, faucet handles etc. In addition, every classroom will have a bucket of disinfectant wipes, spray disinfectant solution and extra paper towels to use with disinfectant solution on hard non porous surfaces. Classrooms and other spaces have removed non porous fabric furniture like couches, cushioned chairs, bean bag chairs etc. as these cannot be cleaned easily.
What about PPE and Supplies?
Since late May we have been procuring supplies, equipment and materials early and often to get in line and storing to our capacity all of the following through December: TP, PT for bathrooms, hand soap, cleaner/disinfectant solution for every classroom & workspace including refills and PT for classrooms, 60 gallons of hand sanitizer, buckets of disinfectant wipes, gloves, shields, masks, etc. We are looking at an O3 water application system to efficiently disinfect playground equipment, kitchen, dining tables, high frequency touch surfaces etc. We have purchased over 60 portable plexiglass sneeze guards, are having plexiglass shields installed on dining room tables. We have auto dispenser sanitizing stations for campus high traffic areas and work spaces. Every classroom teacher will have a contactless thermometer to respectfully take temps in morning or as needed.
Are temperature checks and screenings required?
There are no requirements for school staff to do contactless temperature checks for all students and staff. Thermometers have been distributed to each classroom teacher for the purpose of temp checks if they desire and to check in the course of the day if overt symptoms are noticed. Screening questions may also be asked of students and staff regarding symptoms and general health.
What about exposure risk even within bubbles on the playground?
We continue to work through the planning of what will be allowed to mitigate exposure as much as possible. We are looking to our community partners like the YMCA and Parks and Rec to brainstorm ideas for play that maintain as much social distancing as possible but still allows for activity, socialization and interaction.

There is staggered time between playground use for equipment to be sanitized with Aqueous O3 and/or other safe cleaner/disinfectant products. Some of the "lands" that classrooms will be playing on don't have equipment like the fields etc.
What about air conditioning?
We are continuing to look to install campus wide AC. However, all the current public health guidance makes it clear that all rooms should be open to ventilation as much as possible; exposure can be minimized by opening up windows and doors.
We have invested a lot of resources in signage and banners that are now posted around campus. Our kids will also create classroom posters/signage to internalize new practices and procedures. There will also be formal lessons connecting the three B's and Respiratory illness prevention best practices.
What is our school community's most important responsibility?

Under no circumstance should a student, visitor or staff member come on to campus if experiencing any symptoms of illness, may have been in contact with someone who may have been themselves exposed to the virus or to someone who may be ill with respiratory symptoms. We need our entire Aina Haina community to care for each other by staying away from campus if there is any chance of having a respiratory illness.
Safety Measures - Face Masks
What is the policy on face masks?
Face masks can be disposable or cloth reusable. Families are expected to supply their child with a clean face covering each day for school.

Teachers in the classroom have the ultimate final call regarding if and when students should be wearing face masks while in their classroom. As a general consideration, anytime a 6ft distance cannot be established, face masks should be worn. If social distancing can occur, face masks indoors are still recommended, and again, under the purview of the classroom teacher.

Face masks are required anytime a person is outside walking to different areas or locations of campus, outside while waiting for entry into classrooms in the morning and waiting for pickups in the afternoon.

Face masks are required when leaving and entering a new "bubble".

Face masks are not recommended during recess. Face masks are not required during mealtimes and if snacks are being consumed at recess.

Face masks are not required if there is verified medical condition making the use of all types of face masks potentially dangerous.

Suggestions regarding prepping children for face mask use is to practice it before school starts, let kids take ownership in what type or style, allow time for students to use what is most comfortable and have it be a face mask they are familiar with.
Should I be concerned that teachers have final authority on the use of face masks in their classroom?
Our entire staff has the safety and well being of every student and staff member at the heart of what we are planning and how we will implement our return to school plan. Our teachers are fully aware of the best practices and recommendations by CDC and DOH. Generally speaking masks should be worn whenever in the classrooms, particularly when 6ft social distancing can't be maintained. The teacher has and needs the discretion within their classroom to adjust. For example, students take masks off to be audible and understood if they are sharing something verbally. However, others may still keep face masks on and social distancing is still maintained. Perhaps a face shield may be a possibility or other types of masks for your child. Face masks and our youngest are definite challenges that we will all keep working with each other to move through. Teachers will be building in "mask breaks" throughout the day.
I have been telling my child to wear their mask all of the time except when eating or drinking. Will that be an issue if teachers ask my child to remove their mask? You mentioned earlier that teachers have the final authority in their classrooms regarding masks.
You may want to have a conversation with your child and their teacher so that the kids, yourself and the teacher can be on the same page, as it can be tough on our kids of any age to have an absolute directive from their parent and a potential contradictory one from their teacher who they want to please and be respectful of. Teachers will only consider kids not wearing a mask if social distance of at least 6 feet can be maintained, they are facing in same direction and it is part of "mask break" or the teacher/other students need to hear an answer or comment within the classroom. Generally speaking, it's a clarifying statement that gives the teacher some latitude to make classroom operations as safe as possible and maximize learning opportunities pending situations as opposed to an absolute directive with no latitude.
I have some concerns that masks aren't required at recess.
We understand that all of us are at varying levels of comfort regarding the safety and well being of our child at school. Face masks are not required or recommended via CDC and DOH guidelines for students at recess or PE due to potential breathing or other safety issues. Students will stay within their "bubble" to the extent possible during recesses. If a parent prefers their child wear a face mask, they are allowed to. If we believe it is a safety concern, we will address that safety concern at the moment i.e. vision obstruction/choking hazard/breathing concern etc. we will communicate such with parents as our first priority is student safety and well-being.
Safety Measures - Health & COVID
DOE Health Hotline & Telehealth: (844) 436-3888
What are the "wellness" or "screening" questions? Can we use them at home to assess our own child's wellness before even coming to school?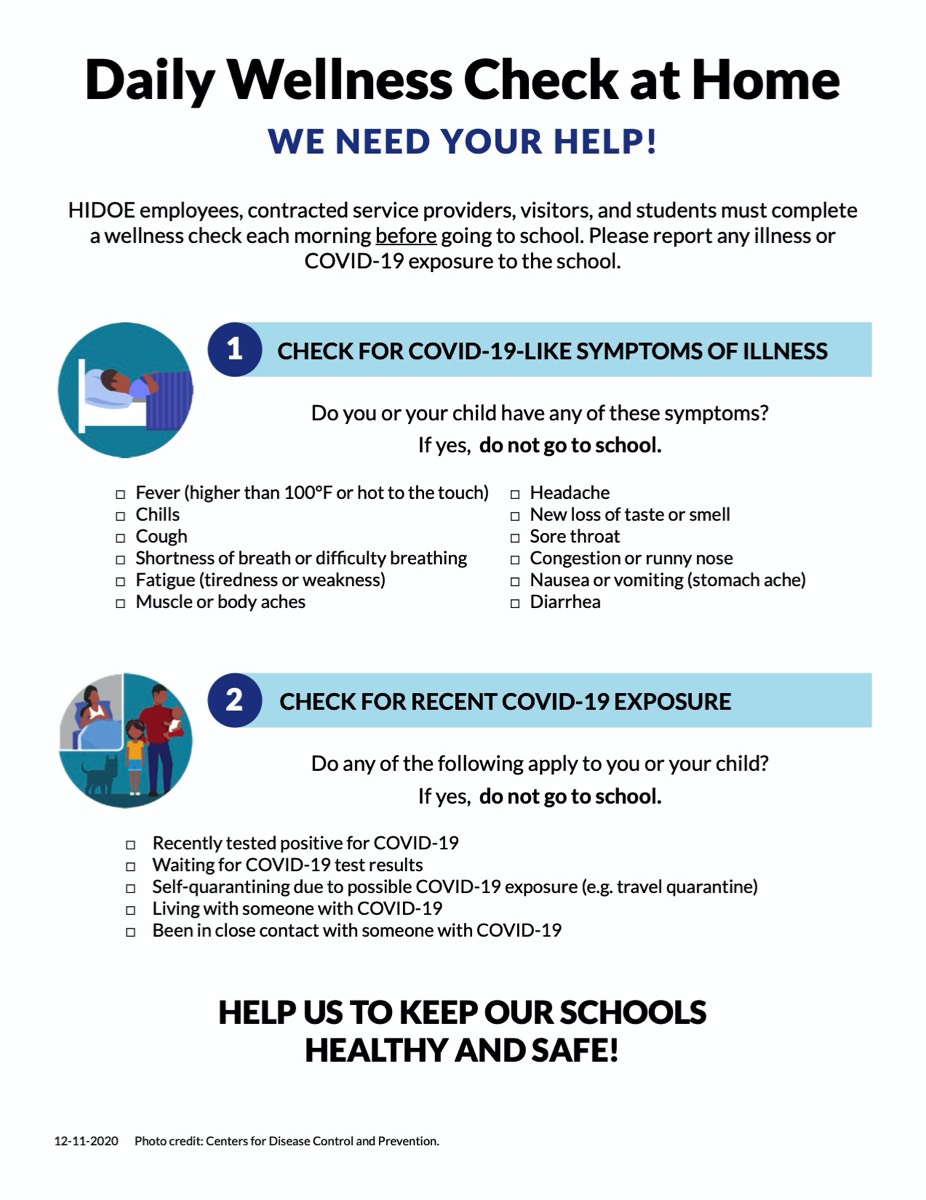 What happens if my child is fine in the morning but develops symptoms or gets lethargic during the school day?
If it is a potential respiratory illness, your child will go to the wellness room where we caringly isolate students/staff; you and/or your emergency contacts will be called to come and pick up your child in as expeditious a time as possible. The goal being within the hour.
What happens to any student or staff member who comes on campus sick or with symptoms?
If we observe, suspect or it is reported that someone on campus is sick or has developed symptoms, we inform the health aide and office, isolate the person in our health room that will be reorganized for this purpose, enter through the Koko Head ADA door so as not to go through the public office, we call the parent or others on emergency card, have child picked up immediately upon the call. The Return to School/Work Criteria must be followed in order to be allowed back on campus.
Will schools be able to test people for COVID?
Schools themselves will not test for COVID. Should there be potential exposure, the DOH works with DOE and school regarding testing at that point. For information regarding testing outside of a potential school campus/event exposure, one should check with their specific health insurance provider.
Will the school close if a student, faculty member, or household member of a student/faculty tests positive for COVID?
The process that gets triggered is extensive and meticulous. The gist of it is that Department of Health works with the Department of Education, Complex Area Superintendent, and Principal for communication to all groups.
School may or may not be closed depending on the results of contact tracing, extent of exposure etc. as determined by the DOH and HIDOE. Contact tracing and testing for potentially exposed students and staff will be done through DOH. All potential students and staff who may have been exposed are self quarantined and will stay in communication with school, DOE and/or DOH. Distance learning will be in effect for any groups of students who may need to be quarantined.
Distance learning could be through Acellus and augmented with other school online platforms. There will be a synchronous component and a means to confirm and report attendance along the asynchronous platform.
Will the school notify families if a student, faculty member, or household member of a student/faculty tests positive for COVID?
The school will follow all guidelines set forth by the DOH and DOE regarding confirmed positives. We cooperate with them fully in regards to communication responsibilities, contact tracing, closure and reopening.
If a student or staff member is awaiting a COVID test result due to possible exposure, what are the school protocols?
Please follow the current Return to School/Work Criteria based on the Hawaii State Department of Health's COVID-19 Interim Return to Work/School Guidance.
Safety Measures - Return to School Criteria
Please consult with your primary healthcare provider. If you do not have one, please see the following options.
A student enrolled in a HIDOE school is eligible to receive free healthcare from a Hawaii Keiki Nurse by calling (844) 436-3888. The Hawaii Keiki Health Hotline is available Monday-Friday from 8:00 a.m. - 3:00 p.m., excluding holidays.

Community health centers serve all patients regardless of their ability to pay or their health insurance status. See the list below to find a community health center near you.

Oahu
Kalihi-Palama Health Center 915 N King Street Honolulu, HI 808-848-1438

Ko'olauloa Health Center 56-119 Pualalea Street Kahuku, HI 808-293-9216

Kokua Kalihi Valley Comprehensive Family Services 2239 N School Street

Honolulu, HI

808-791-9410

Wahiawa Health Center

302 California Ave Suite 106 Wahiawa, HI

808-622-1618

Wai'anae Coast Comprehensive Health Center 86-260 Farrington Hwy

Wai'anae, HI

808-697-3300

Waikiki Health Center 277 Ohua Ave Honolulu, HI 808-922-4787

Waimanalo Health Center 47-1347 Kalanianaole Hwy Waimanalo, HI 808-259-7948
Daily Routines - Our New Normal
What's expected at drop off time in the morning?
We would ask as much as possible for parents to stay in their car and drop off students. If parents need to park and walk with their child everyone must have face coverings and then allow child to walk to class from the furthest comfortable point; but no further than the grassy area between buildings. This is all to create as much social distancing as possible along walkways and particularly the doorways of classrooms.
While on campus, Is there a specific flow of traffic?
Generally we ask for everyone to walk to the far right of walkways, maintaining social distance and everyone should be using a face covering. Currently, there are no "one way only" or "one person at a time" areas outside of the buildings. It is about caring consideration for each other and our reinforcement of best practice behaviors.
Which side of the classroom will the kids enter from?
The classroom teacher will alert all families and students to confirm, but generally speaking, the handwashing stations of classrooms are on the makai side of buildings, and all students will wash hands before/upon entering classroom as well as having possible temp checks and some wellness questions. Each teacher has been busy determining a plan for the flow of traffic and routine in their classrooms from the start of the day through restroom use, handwashing breaks, mask breaks, recesses, lunches and the exiting of class after the school day.
What does my child's classroom look like now?
It is open spaced, desks at least 6ft apart, sneeze guards on the desk, students are using face coverings, personal face shields are available for each student.
Will there be seat covers for the restrooms?
There will not be seat covers for the restrooms. The science of this virus shows that it is much less likely for a person to get COVID from skin to surface contact particularly if that skin area cant make it to their eyes, nose and mouth; it is more about dosage of active virus in the air as aerosol or droplets that enter through the holes in our face. It is more likely that a person, particularly a student, will get more contamination on their hands messing with a seat cover putting it on, off, throwing it away etc. Restrooms will be cleaned and sanitized at least once daily and high touch surfaces more often.
How about water fountains?
Water fountains will not be usable this year. However, the automatic, contactless water bottle stations are usable. We encourage all students to bring their own, personal, filled, labeled water bottle to school.
What will my child's recess be like?
All recesses are conducted with upper el being at parks and rec area and lower el being in the campus mauka area. Each classroom bubble will have their own separate area or land to play. Bubbles should not mix. But students can play on the equipment within their bubble and keep socially distant to the extent possible with 5-11 year olds. Because recess times are staggered, students will be inside their rooms before next recess begins. Students will wash their hands before going out to recess and after recess upon entering their classroom.
Modified recess schedule

(No afternoon recess on Wednesdays):

Grade K - 9:40, 1:05 (Lower Playground)
Grade 1 - 10:00, 1:20 (Lower Playground)
Grade 2 - 10:20, 12:50 (Lower Playground)
Grade 3 - 9:40, 1:05 (Upper Playground)
Grade 4 - 10:00, 1:20 (Upper Playground)
Grade 5 - 10:20, 12:50 (Upper Playground)

Is playground equipment cleaned between use?
There is staggered time between playground use for equipment to be sanitized with Aqueous O3 and/or other safe cleaner/disinfectant products. Some of the "lands" that classrooms will be playing on don't have equipment like the fields etc.
Can all the classrooms within a grade level stand in line together (i.e. for lunch)?
There are socially distanced floor markings through the cafe line and out the entrance door. Classrooms will wait socially distanced until the class in front of them has gone through the line and created "spots" to fill in socially distanced.
What will lunch look like?
Upper El will eat in their rooms supervised after the food is delivered to them or they go through food service grab and go in the AV Room. Lower El will go through the normal cafeteria line, socially distanced and take a seat on the disinfected dining room tables, socially distanced and facing in the same direction. There will be no student sweeping, wiping or cafe monitoring this year. All lunches are pre-plated and in grab and go containers.
Modified lunch schedule:

Grade K - 11:00 (Cafeteria)
Grade 1 - 11:40 (Cafeteria)
Grade 2 - 12:20 (Cafeteria)
Grade 3 - 11:00 (Classrooms)
Grade 4 - 11:40 (Classrooms)
Grade 5 - 12:20 (Classrooms)

How about our Kindergarten students and naps?
If naps can be done safely with appropriate social distancing, naps may be a part of the K daily experience. Our K staff will communicate specifics with our K families.
What is happening with articulation and other pull outs? Japanese, Hawaiiana
There will be articulation once every two weeks when school resumes face to face. Your child's teacher will provide more information after our start of school. It will include Library, Computer, Art and P.E. In addition, students will also be receiving instruction in Nihongo and Hawaiian Studies. The teachers, for the most part, will be going to the classrooms for instruction.
What about picking up my child after school?
The same concepts apply to pick up as they do to drop off. The goal is to have as few people on campus as possible. So if you can make arrangements for a pick up spot in advance they can come to the car directly as you wait for them. If they need to wait a while after school, please continue to reinforce they must wear face coverings, maintain social distancing, sit/stand quietly in the area as they wait for their ride.
What if I'd like to get my child from their classroom?
We ask that you wait for your child socially distanced on the grass areas away from the doorways, except where your child's teacher may have made other arrangements or directions.
Will there be any after school childcare or class options?
The Kaimuki Waialae YMCA and Na Liko will be having after school care, before school care (YMCA only as enrollment permits) and off campus day care. Please refer to their websites or contact them directly for more information regarding registration. We will share opportunities for virtual after school programs with our families as they are made available to us.


Kaimuki YMCA A+ Program starts on November 30.
Will there be programs or childcare for my child during the "off campus" days of the school group rotation schedule?
The Kaimuki Waialae YMCA will be developing an "off" day program. As they or other child care programs have information to share we will assist in that communication to our families.
Are parents and volunteers allowed on campus?
We will greatly limit the amount of non student and non staff access to the campus, particularly just outside the entrances and exits of rooms and workspaces and classrooms. Volunteers, parents, visitors to campus may be screened and temp checked with contactless thermometers in a respectful manner for overt symptoms of COVID/flu. Advance appointments, to the extent possible, is respectfully requested.
I need to conduct school business or meet with my child's teacher or someone in the admin offices. What should I do?
Please communicate with the staff member electronically, by phone or in the manner or platform shared with you by your child's teacher. Always make an appointment in advance if the meeting has to be F2F. This will allow for proper preparation on the staff member's part for your and school community's public health safety. Advance appointments, to the extent possible, is respectfully requested.
Parent & Community Support
How can parents help or assist with school needs?
We have a wonderful and productive partnership with the PTSA. All efforts and resources to assist AHS in our reopening should be in partnership with our active PTSA. We have already partnered with them to secure 3 panel sneeze barriers for every student desk in every classroom on campus. We will be looking to rebrand our Jaguar Jog to make it safe, adhere to all public health rules and still bring joy and activity to our students. It will still happen later in 2nd quarter, it will just be different. We would ask that all potential assistance, donations etc. partner through our PTSA either through Jaguar Jog or other ways within the PTSA family.
Is there anything specific that parents/community groups can do to support the school financially?
We are looking to partner with our community partners to purchase and install a new Aqueous O3 system that can be used to expeditiously disinfect equipment, balls etc. immediately without chemicals. We are also looking to procure mobile systems of Aqueous O3 dispensers that we can utilize throughout playgrounds and campus for expeditious and effective augmenting of our core enhanced cleaning and disinfecting plan. Parents can best support the school through the PTSA and the Jaguar Jog Fundraiser during the first semester.
Currently my child is provided opportunities for about an hour and a half to two and a half hours of synchronous instruction. Since most of the grade levels will be continuing with Distance only throughout the 2nd quarter, will that continue?
Yes. Grade levels still in distance learning from home will continue with the same or similar distance schedules and at least the same amount of synchronous opportunities for as long as we are in the Distance only within a grade level.
What happens with Distance Only Opt in students once a grade level returns face to face?

Once face to face within a grade level begins, the distance only students will be doing Acellus and may also do the other online assignments as found on the Distance Learning Website. The distance only students will not have access to synchronous opportunities with their GL teacher as the teacher will be conducting classes face to face.
Will there be changes to teacher schedules as a result of this phased reopening?
There is no doubt that there will need to be changes as each GL group transitions from distance only schedule to F2F hybrid. They will be doing multiple planning in the transition to maintain the distance only opportunities while they plan for the F2F transition. Articulation times and days for GLs who return to campus will revert back to the previously planned days and times which were based on a F2F model. This may have a domino effect on the distance only schedules throughout all of the grade levels as these transitions take place. Changes will be communicated by your child's teacher and reflected in the Distance learning site for Aina Haina.
Why are you bringing back only single grade levels at a time? Why K first?
In keeping with a cautious, measured approach to our students', staffs' and community's safety and well-being, a tiered rollout of our youngest kids allows for the additional time needed for the younger kids to learn new routine and practices. It gives the school an opportunity to implement our plans, practices and protocols while then evaluating and adjusting accordingly; and finally, should there be a confirmed COVID case, it will be limited in scope and allow for quick and efficient contact tracing. We are hopeful that bringing back one grade at a time will help us have a positive, successful and sustainable return for our entire school population over time.
I noticed that in the targeted return schedule, some grade levels have their group 1 returning the day after their group 2. Why is that?

In order to be sure that we don't have six different group rotation schedules for the year, we needed to be sure that the phased returns of grade level groups coincides with the year long rotation schedule. There are also some holidays that occur on Monday, thus leading to some of those nuances in the grade level group's return day and date.
What time will grab and go lunch be once grade levels begin to return?
Grab and Go lunch can be picked up between 12:00 - 12:20p.
What is model B from the three DOE allowed options and why was it chosen?
Model B was chosen through staff consensus. Model B will have every classroom divided in half into group 1 and group 2. These groups will alternate F2F on campus learning according to the schools yearlong rotation calendar. Model B with alternating half class groups was chosen to prioritize wellness and adhere to the 6ft social distancing requirement between student desks and teacher desk. It also maximizes the number of days that students will be on campus F2F as well as provides consistency of pattern so that holidays do not impact one group more than others.


Read more about HIDOE School Models here.
Will we be following model B for the entire school year?
The alternating day schedule with half of our students at a time is slated to be for the entire year, however, should any developments in our state regarding public health and corresponding directives positively impacting the DOE occur, we are always ready to pivot and adjust accordingly, both to completely distance or, hopefully completely back to F2F for every kid every day.
What are the class sizes with half the students coming to campus every other day?
The class sizes as of right now, without total clarity on opt ins for Distance Only Plan and enrollment/withdrawal activity is between 8-10.
For face to face (F2F), what are the expectations for students on their home days? Will younger grades like Gr 2 be using Acellus or will classroom teachers be sending learning materials/homework each day?
Generally speaking, teachers will provide a range of assignments and activities that connect to previous face to face day or prepares students for ensuing face to face day, which may include Acellus as well as other source materials and web based sites (such as iReady, Achieve 3000, etc.). This will vary by grade level but be as consistent as possible within grade levels.

Work on students' home days and other additional information can be found on our
AHS@A Distance Website.
What will happen to F2F students and Distance only students if the DOE has to go all distance for all students?
Every student is a part of class roster with a teacher of record. Should there be a prolonged closure of campus, school will continue with distance learning for all. All students will be working with their classroom teacher of record. There will be synchronous live individual, small group and whole class instruction for some parts of each day. All students will work with Acellus, iReady, KidBiz, Wonders, Stepping Stones and other augmented content in Common Core and Next Generation Science Standards. The specific Distance for All learning plan will be communicated through grade levels and the school in a timely manner.

Additional information can be found on our
AHS@A Distance Website.
Do we have an alternative plan in case we have to shut down for any length of time?
We will use the Acellus online learning platform in the event we need it for entire school due to closure. In order to prepare to pivot as needed to a blended model or all distance model again; we will need to determine early on our student needs in the device and connectivity category and revisit periodically for changes; our staffs' and students' awareness and familiarity with google connectivity along with other online curricula. We will also need to establish email contacts with parents in our classrooms along with regular updates to those contacts. And we will need to familiarize ourselves with the different ways and approved platforms to deliver synchronous live instruction via one to one, small group and whole group situations. Data from the 4th quarter and our summer program which was a combination of online digital teaching platform Acellus and live synchronous instruction, was that one to one and small group settings for shorter durations of time worked the best to engage and have impactful learner value. It was also more possible to connect personally and manage etiquette and best online practices in these modes. Of course there is always positives to whole group synchronous for short periods of time to develop culture, climate and connection with classes.

Any school work related to a shut down can be found on our
AHS@A Distance Website.
For F2F plan, if there are entire school closures and the curriculum moves online to Acellus, will the classroom teacher be providing educational support during school closures? I have heard that if you select DLP, classroom teachers do not provide educational support, so I am wondering how students will be supported if we select F2F and the school closes.
It is true that with the distance only option there is not a synchronous teaching component with an AHS teacher. However, there is a staff member attached to each student for the purpose of regular check ins, focused on social emotional well-being and a connector in case of any transition needs back to F2F in second semester. If the school has to close and move to distance learning, the teachers will provide a mixture of synchronous (live real time via web) whole, part and individual instruction along with asynchronous (non live, done anytime) instruction with office hours according to a weekly schedule. We are and will continue to work on our planning to quickly pivot in case of extended school closures.
Will there be programs or childcare for my child during the "off campus" days of the school group rotation schedule?
The Kaimuki Waialae YMCA will be developing an "off" day program. As they or other child care programs have information to share we will assist in that communication to our families.
After school starting up, I noticed my child is having a really hard time with transition among other things. What can I do?
Please communicate with us. We have an extensive and talented counseling team in addition to your child's classroom teacher and if you have chosen a distance only plan, your child's school staff member liaison. We are here to work with you in empowering your child to navigate through these challenging and evolving circumstances. We understand that uncertainty can weigh heavily on our kids, we have the resources, strategies and talented, committed educators to work with you and your child.

Our virtual counselor meeting links and times can be found on our
AHS@A Distance Website.
under the Wellness tab. This meeting schedule is only available during school closures.
Will there be a virtual or online only option for parents who choose not to have their kids be part of the group 1/2 rotation?
A parent can choose an all virtual or online model at any time during the semester. The selection of this option is for the duration of the first semester or 12/18. On or before 12/18 the family can decide to exit the online only option and return to Aina Haina's Group 1/2 rotation schedule to start semester 2.

The school will sign the student up for Language Arts, Math, Science, Social Studies and Social Emotional Learning as part of their online only option of Acellus. This option is a completely independent option. Progress and attendance will be automatically done through the Acellus platform.

Staff members will be liaisons to groups of Distance only students for the purpose of checking in, transition and Social Emotional Learning supports. In addition to the liaison, there will be another part time teacher who will be available by appointment to work with students who may be struggling academically.
What if I start with F2F on campus plan and then cases rise or I just no longer feel comfortable having my child remain in the F2F plan?
Families are able to move from F2F on campus to the Distance Only Plan before the end of the semester. We do hope that families give it a chance and have conversations with us so that we may do our best to mitigate concerns.
Can we move from Distance Learning Only back to F2F before the end of 1st semester?
No - the minimum time frame for commitment is a semester if choosing the DLP. On or before 12/18 the family can decide to exit the online only option and return to Aina Haina's Group 1/2 rotation schedule to start semester 2.
How does the Distance Only Plan differ from homeschooling?
Home schooling occurs when the student withdraws from Aina Haina Elementary. That means there would be no access to Acellus, AHS staff or any of the other electronic or web based features available to our enrolled students and families. (iReady, KibBiz, eLibrary Books etc.) The parent would be responsible for finding and implementing an alternative educational plan.
What happens with Distance Only Opt in students once a grade level returns face to face?

Once face to face within a grade level begins, the distance only students will be doing Acellus and may also do the other online assignments as found on the Distance Learning Website. The distance only students will not have access to synchronous opportunities with their GL teacher as the teacher will be conducting classes face to face.
If we opt for Distance Learning, how much parent participation will be needed?
The need for home support will vary by the age of the child, family dynamics, disposition of the child as well as readiness levels entering the year. The Acellus program has vectored intervention embedded in the platform that brings in lesson videos from previous grade levels or units as it works with the child to intervene and assist the child's attainment of the standard or goal fo for the lesson. Parents will be able to see exactly what and how their child is doing at any time live or to look back at what was done in the past in order to help target needed home support.
How will report cards be handled for students in the Distance Only Plan?
A student would get a DOE/AHS report card based on the Acellus grades for the 4 content areas.
After school starting up, I noticed my child is having a really hard time with transition among other things. What can I do?
Please communicate with us. We have an extensive and talented counseling team in addition to your child's classroom teacher and if you have chosen a distance only plan, your child's school staff member liaison. We are here to work with you in empowering your child to navigate through these challenging and evolving circumstances. We understand that uncertainty can weigh heave on our kids, we have the resources, strategies and talented, committed educators to work with you and your child.
Can I get technical assistance at home?
Will there be an orientation or training for my child/parents regarding getting started with Acellus?
The Acellus program has a student/parent orientation built into the program that must be viewed and understood before a move to the teaching and activity steps begin. This can be accessed once log in codes for Acellus are emailed to student/parent.
Is Acellus an independent pre-recorded type of program or will each student have a live teacher?
It is a very well produced, succinct, prerecorded set of teaching videos with graphics that convey the standard or lesson to be learned. It is then followed by activities to demonstrate understanding of the standard. Embedded throughout the program will be opportunities to learn and build upon writing skills.
How many hours of work will each student be given per day on Acellus?
This will vary based on many factors for every child. Focus level, initiative, attention level, home dynamics, readiness of child etc. Students are enrolled for Science, Math, Language Arts, Social Studies and Social Emotional learning.
Is there a way for the students to ask questions to their teacher if they need help? What kind of support will Acellus have?
Acellus will deal with technical, operational issues regarding the platform itself. The teaching is embedded in the video lessons before student activities and assessments. Students in the distance only plan will have a staff member who regularly checks in with them and who they can reach out to; the learning however, is independent, student initiated along with family support as needed. The staff connection focuses on regular check-ins, Social Emotional well being and assisting with transition back to school in 2nd semester if desired. It will not be a classroom teacher.
Will there be a DOE or AHS liaison for parents or will all communications be directly through Acellus?
Direct to Acellus for technical type or troubleshooting questions about the platform etc. The assigned AHS staff member for wellness, guidance and connection to school. Mr. Gayer is also available to assist and connect you to someone who can help.
Will learning on Acellus be individualized based on the student's instructional level?
Acellus has built in interventions that assist students who may find certain material challenging. It allows students to move forward as they are finding success. The Distance Learning Only plan may require some degree of familial support if there are any "stuck" points in any of the 4 core content areas.
For DLP/Acellus, how will oral reading be assessed for grades K-2? How will writing be assessed?
These are built in to the platform, particularly writing. Oral reading fluency, not as much. Reading comprehension however is assessed by the nature of the independent learning program.
Special Education Services
If a student has a specific type of plan in Special Education, 504 services or is an English Learner, can that student access services from the school if the Distance Only Plan is selected?
Aina Haina is committed to working with our families to provide equitable access to their services and meet the child's needs as spelled out in their individualized plans to the degree possible regardless of the learning plan the student may be in.
What kinds of services will be provided if my child is receiving services from special education, ELL, reading or math intervention etc.?
For most interventions we will be working with students during their off campus days with live synchronous activities with their intervention specialist or other service provider. We will continue and are deeply committed to working with each family to develop a distance learning plan, regardless of the school plan that is chosen, to meet the needs of each of our students. Continued and constant communication is the important element for us together, to meet each child's unique needs if they are special education, section 504, English Language Learner, need reading or math intervention or other related services.